CHRISTMAS TIME! Who else put their tree up early this year!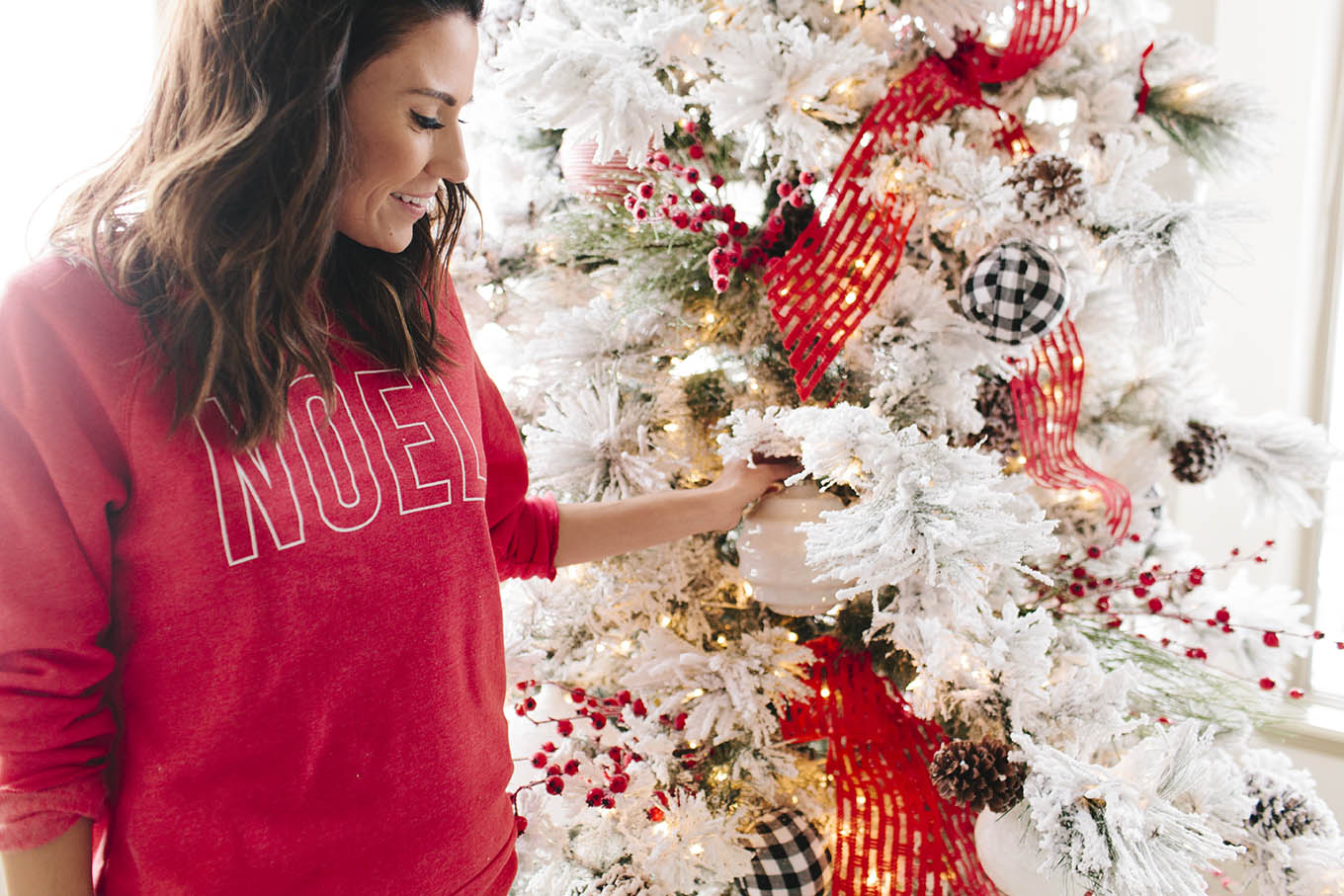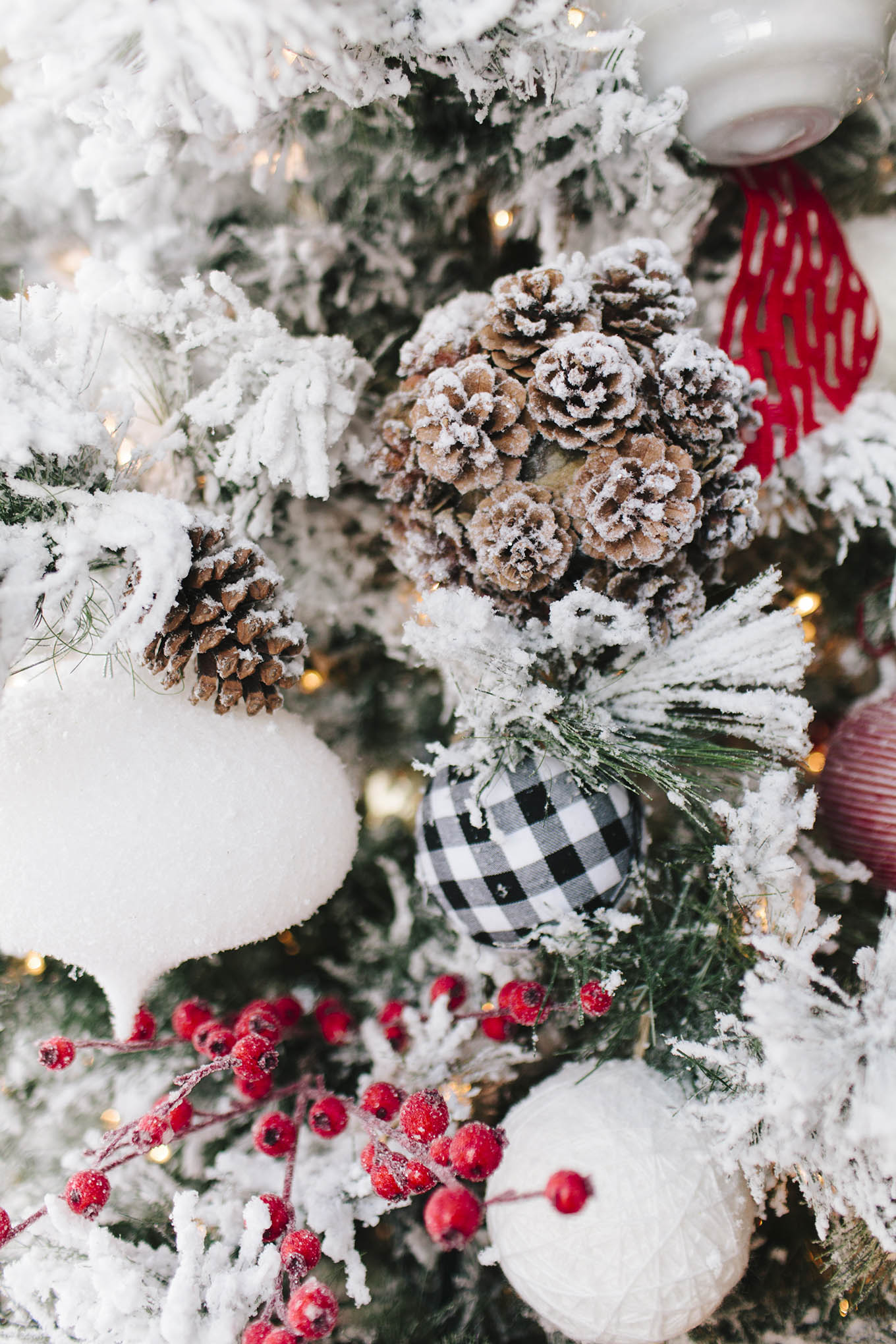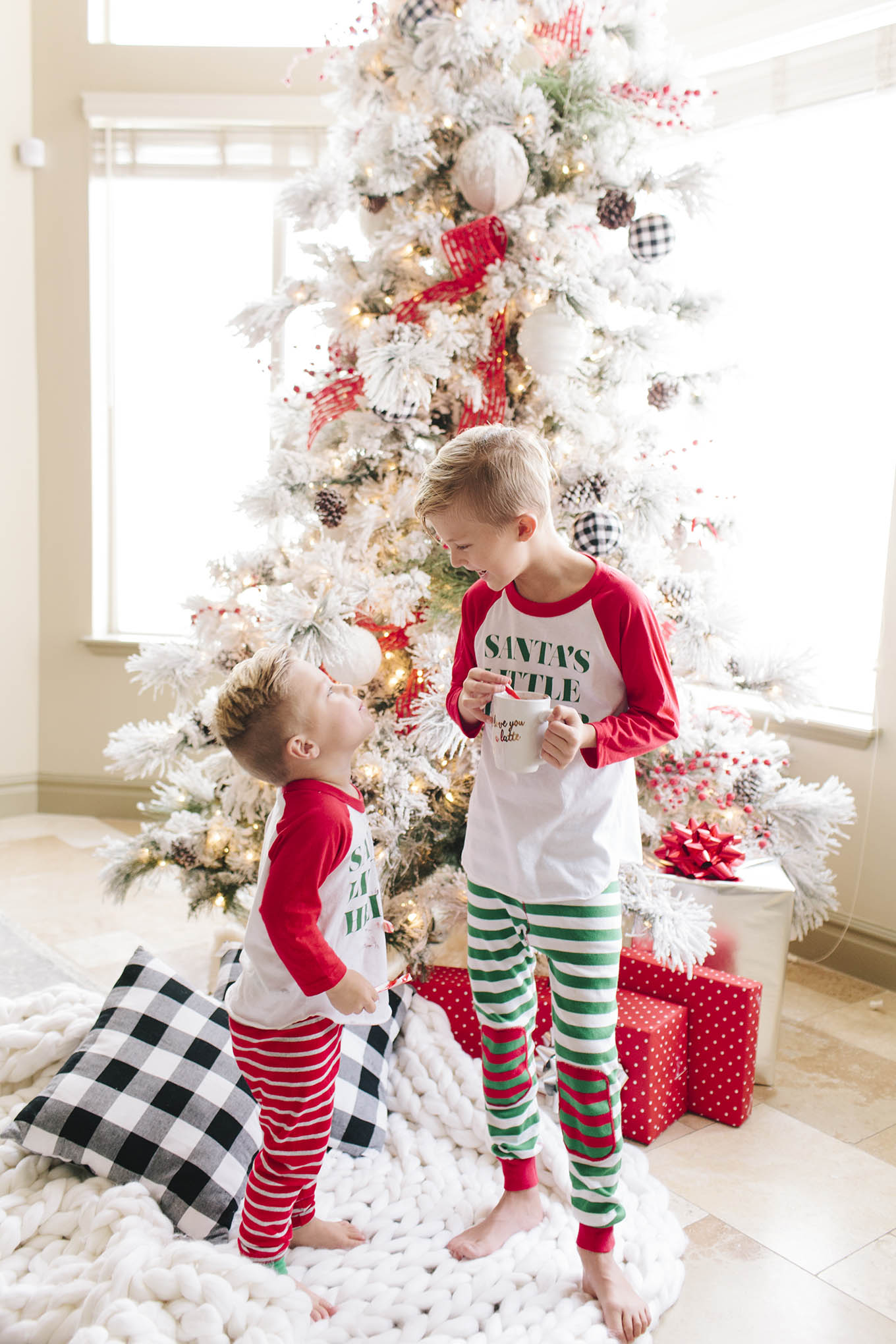 Santa's little helpers/troublemakers!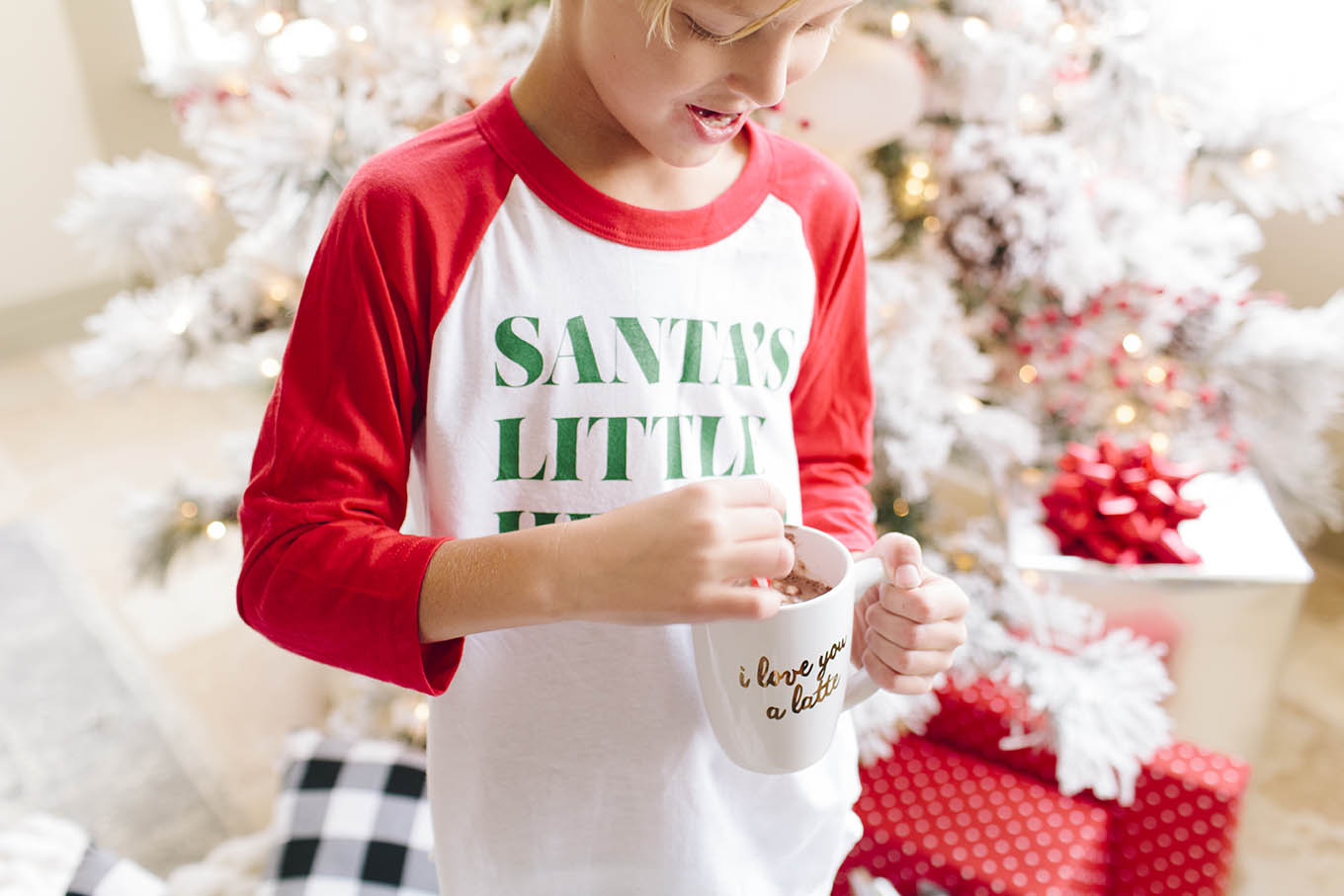 If you watched my facebook live last weekend I was talking about peppermint spoons and the kids were so excited about them!! See it's not just me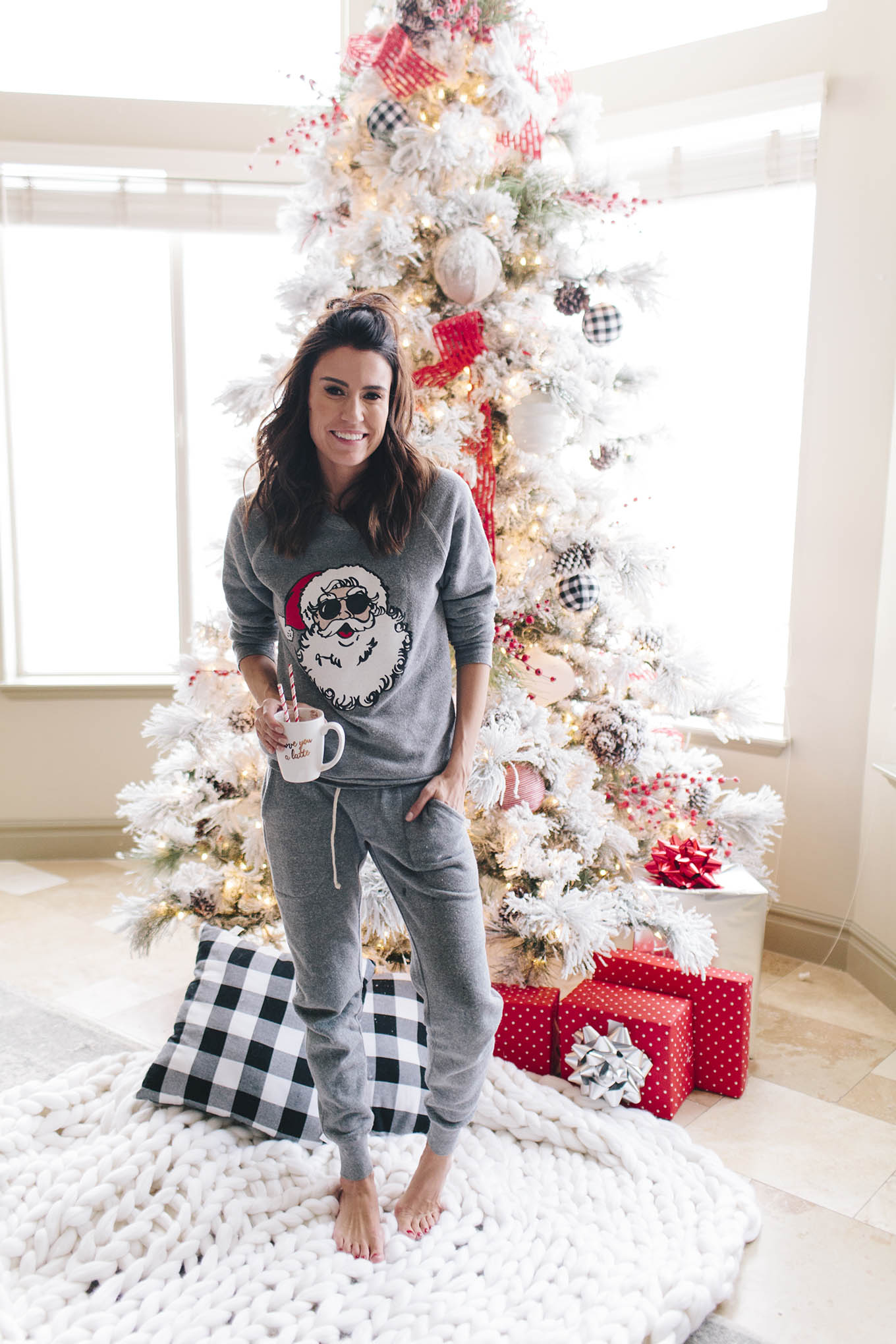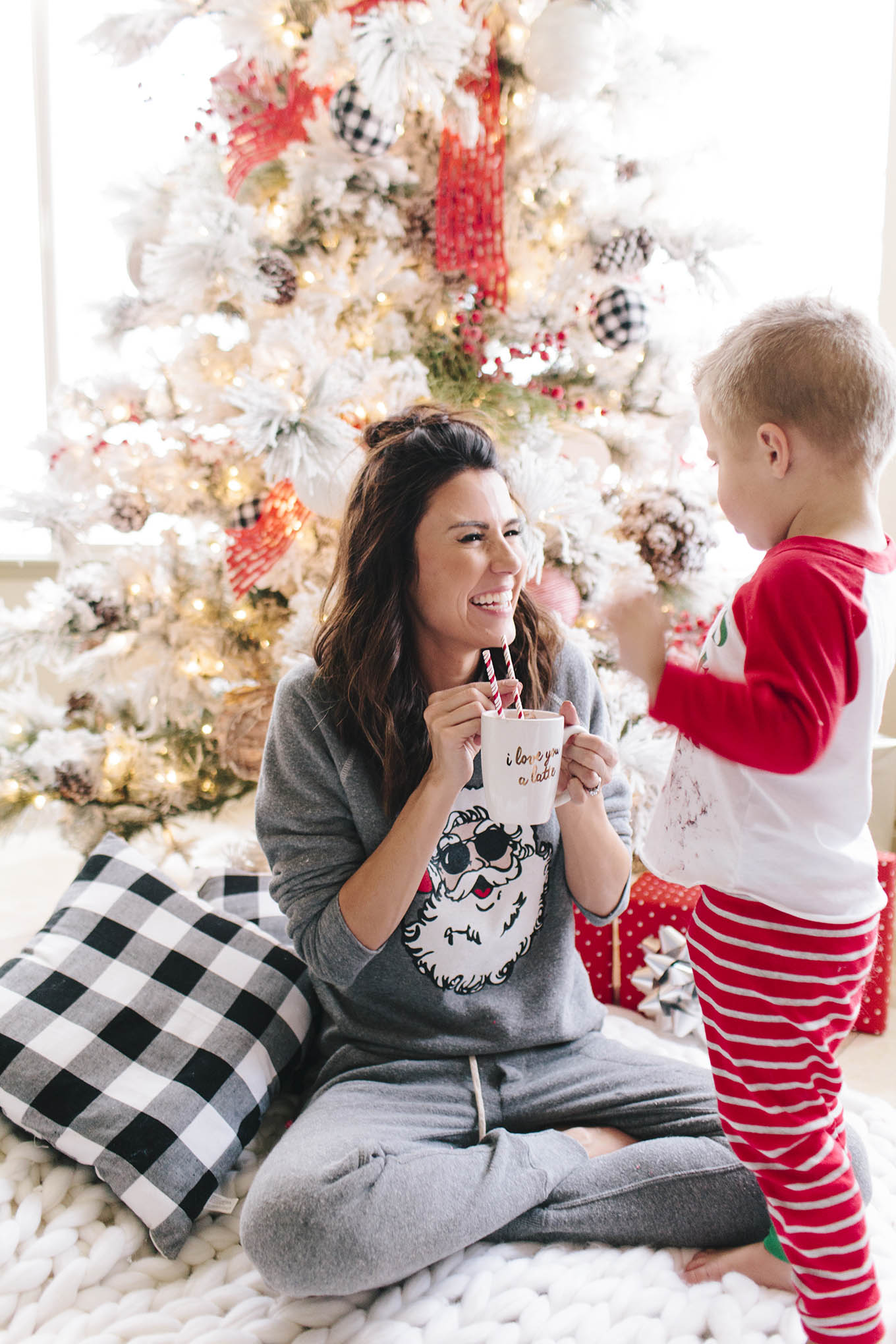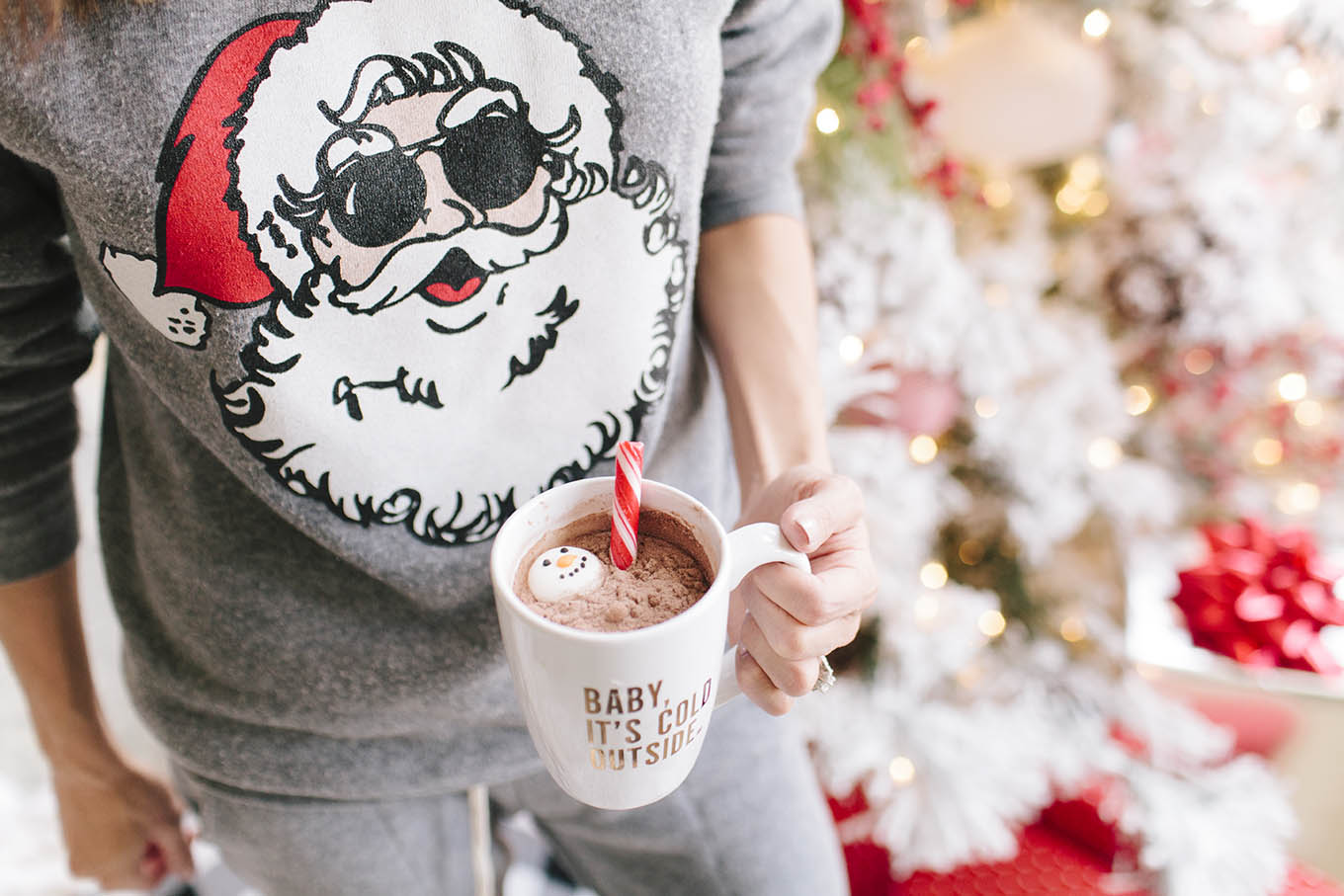 I realized I haven't posted an outfit post with jeans in over a week lol. Honestly as it gets cold I don't get ready as much I live in cozy layers!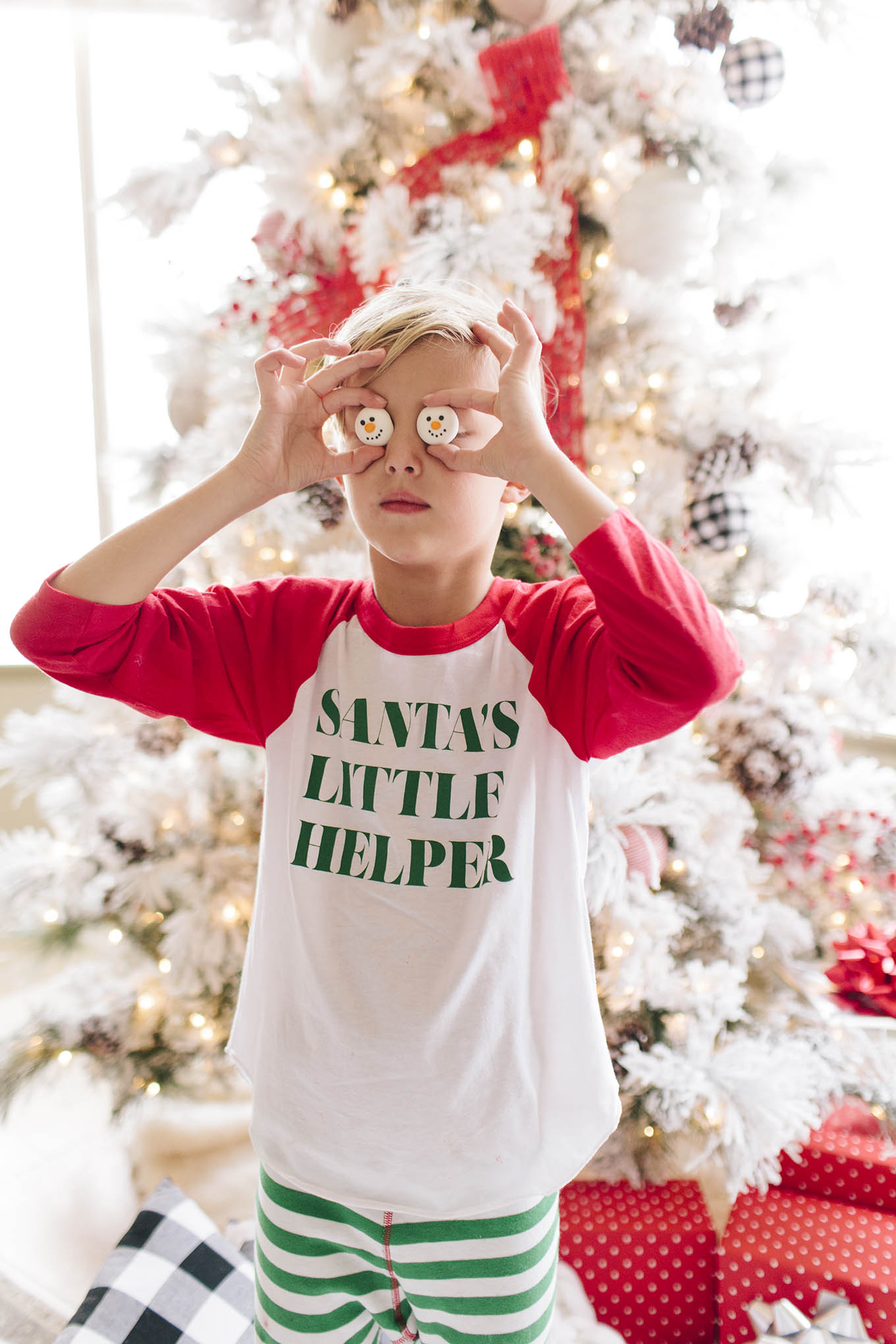 We found cute snowman marshmallows too!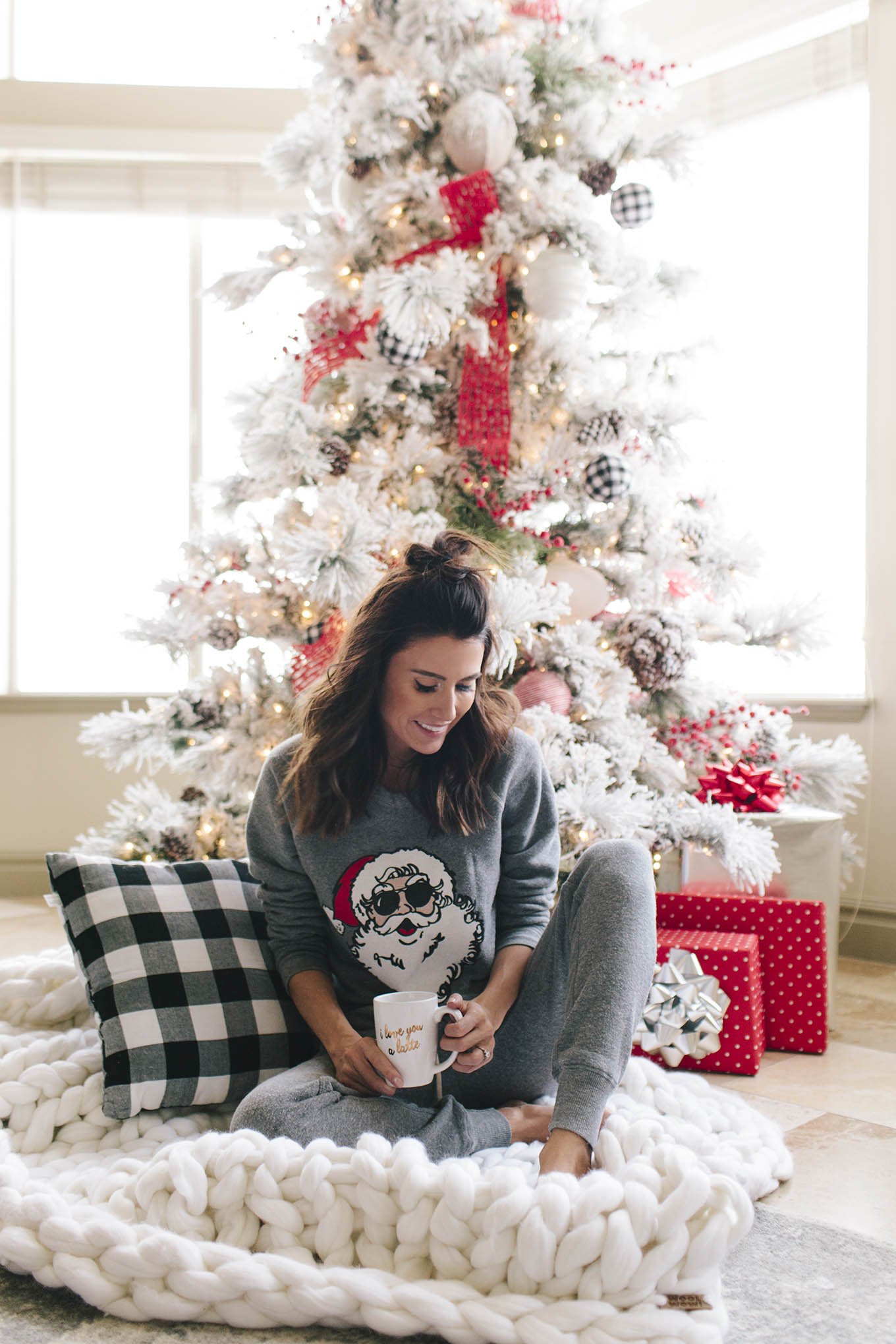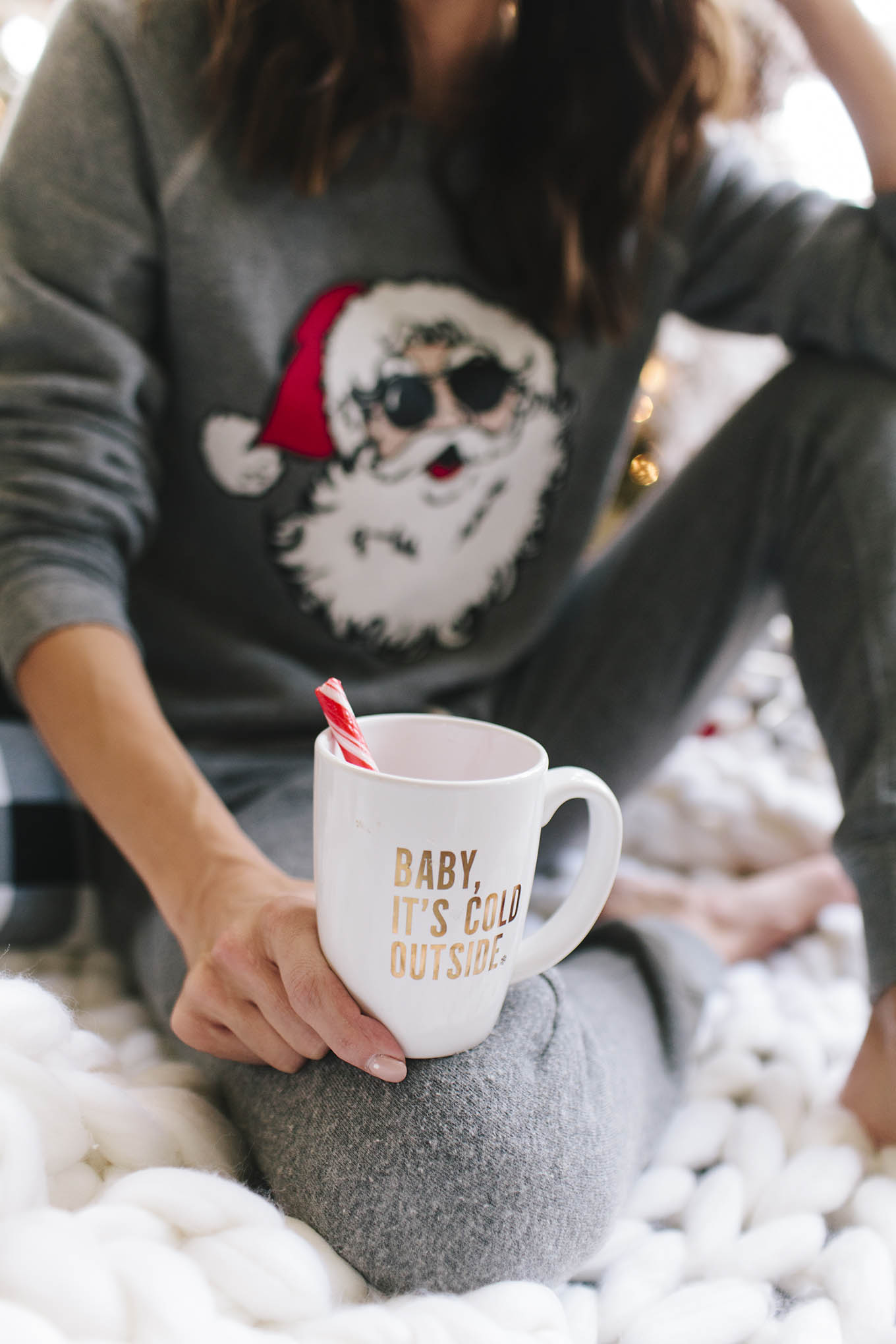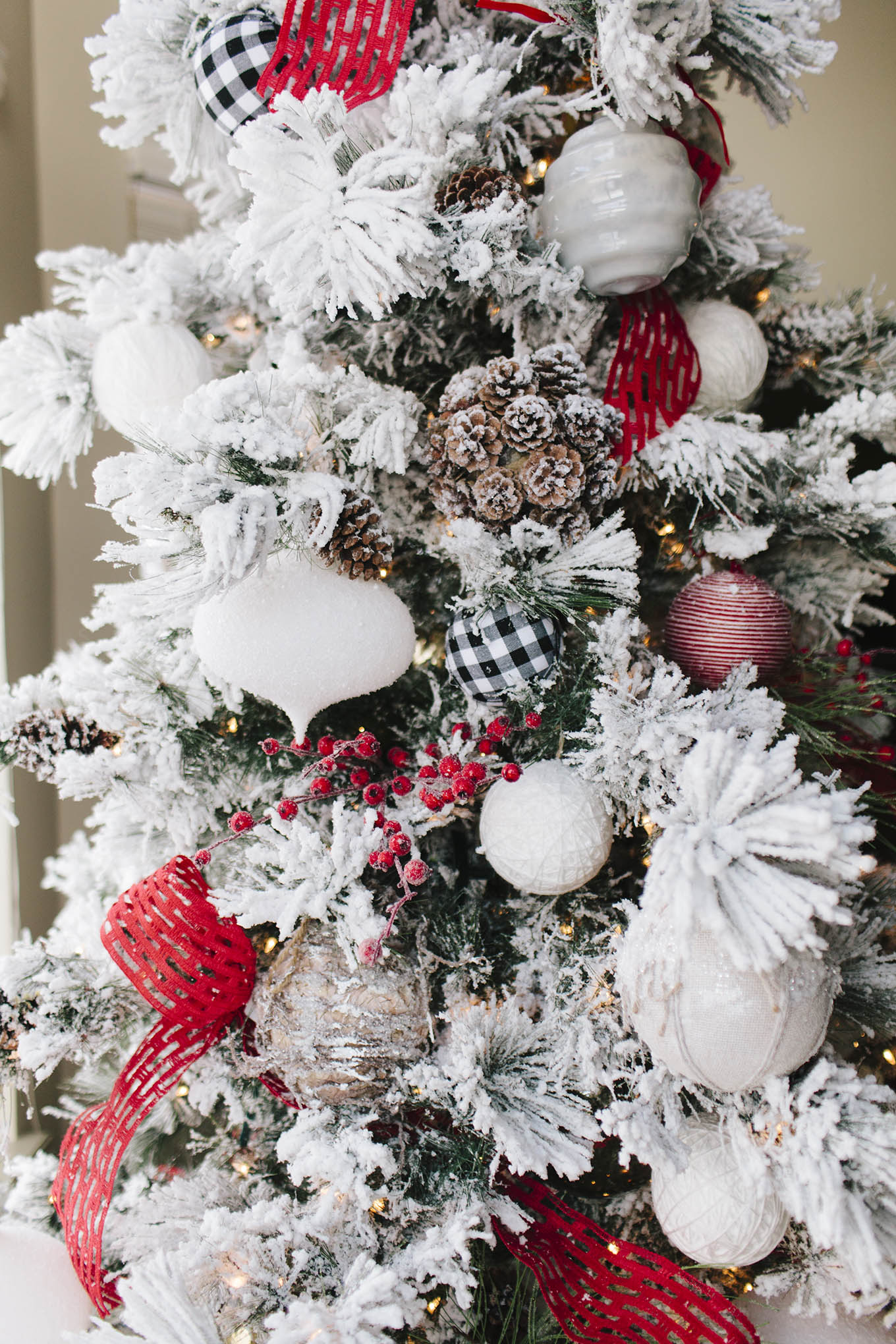 I'm a sucker for all things Christmas so I would end up taking anything holiday-related home with me if I didn't hold myself to a specific theme I would go all out. I love the frosted look and also wanted to bring in some plaids and buffalo checks – almost all my ornaments are from Tai Pan Trading and a few are from Target. I love how it turned out!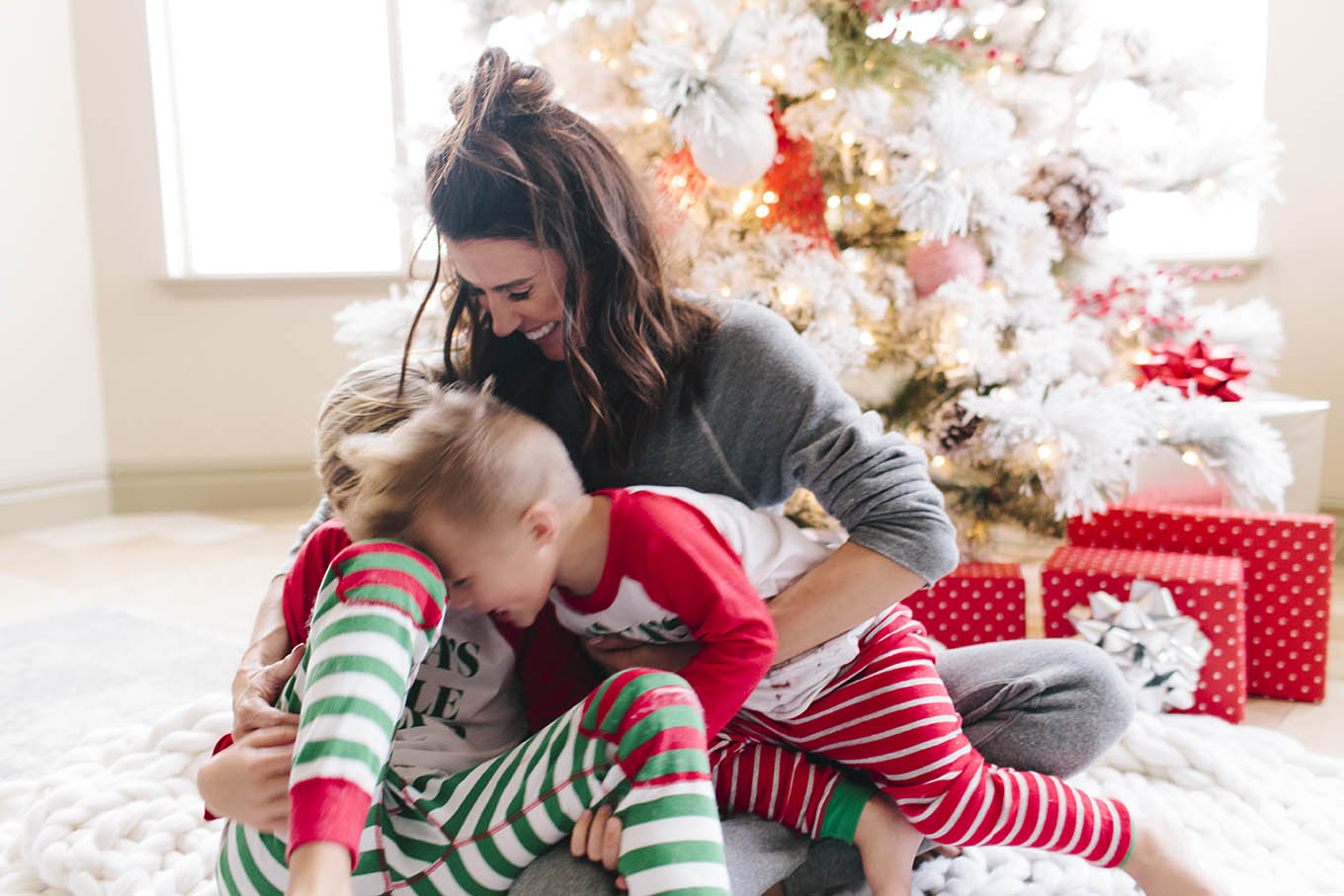 When you try to get two boys to hold still for a picture! CHAOS.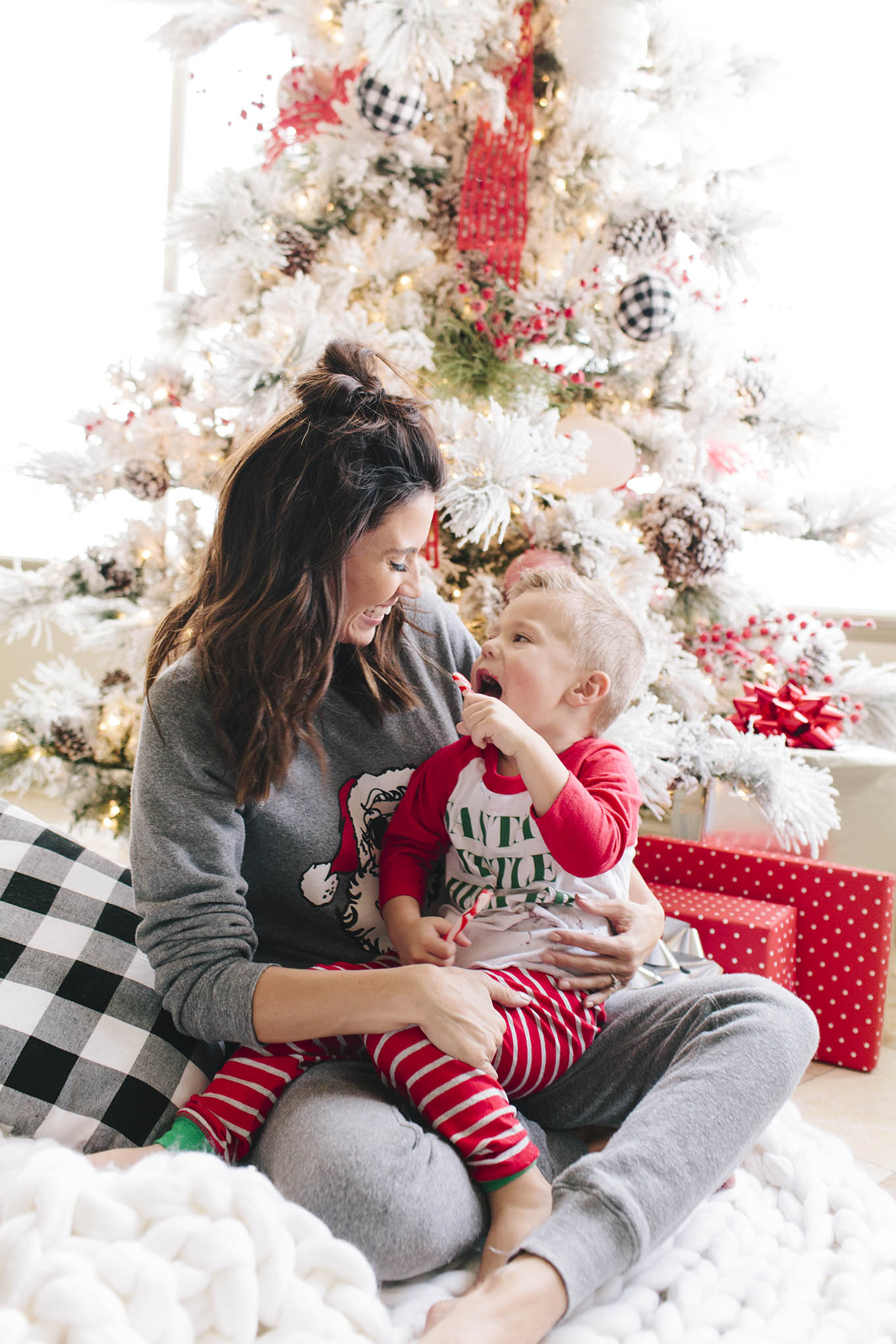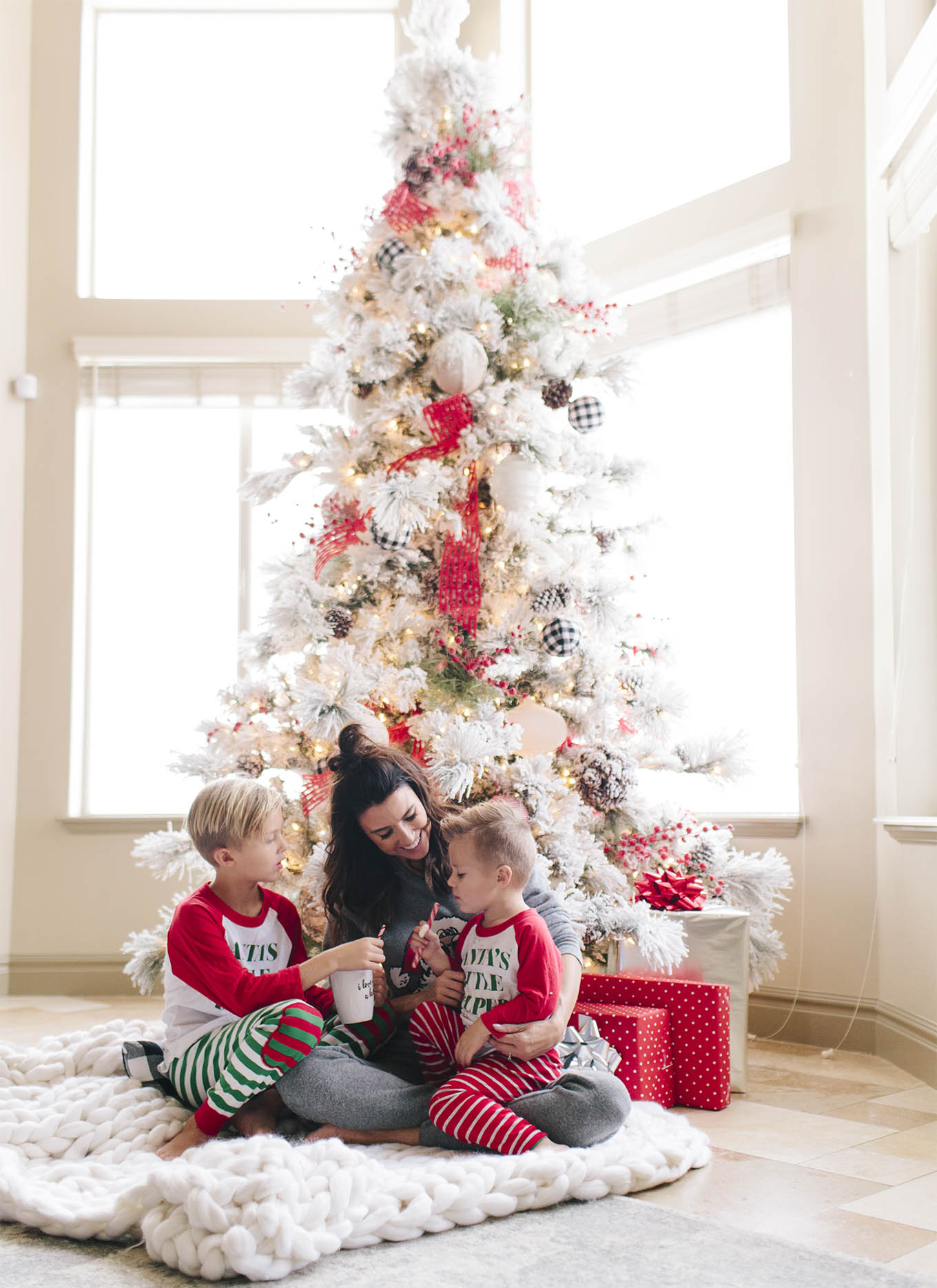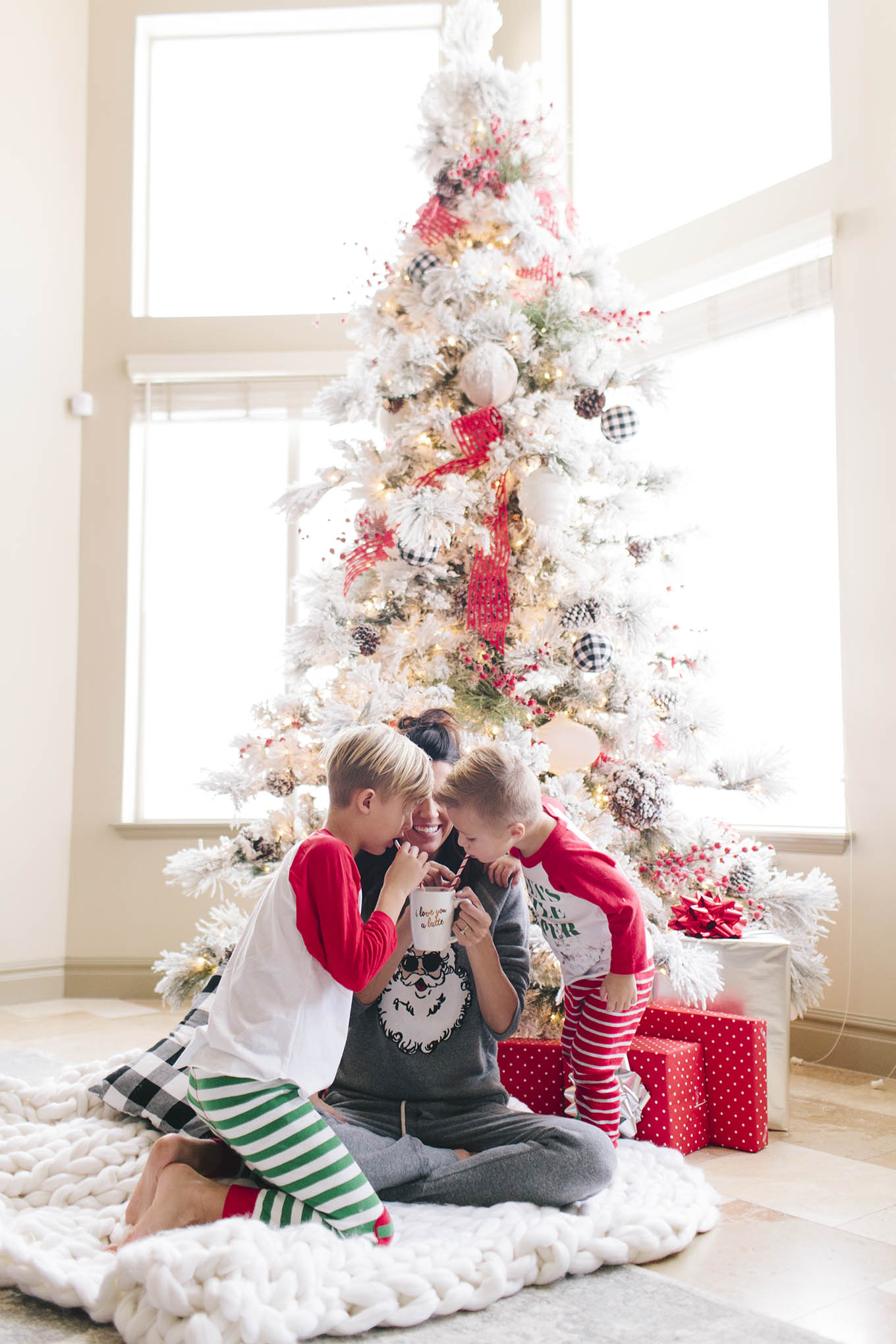 DETAILS: SANTA SWEATSHIRT (WEARING SIZE SMALL)| GREY JOGGERS (WEARING SIZE SMALL – ALSO HAVE IN MEDIUM – SIZE UP FOR COZY FEEL) | NOEL SWEATSHIRT | BABY IT'S COLD OUTSIDE MUG
WES: SANTA'S LITTLE HELPER TEE (WEARING SIZE 2) | STRIPED PJ PANTS
BECKAM: SANTA'S LITTLE HELPER TEE  (WEARING SIZE 8)| STRIPED PJ PANTS
CHRISTMAS DECOR: WHITE FLOCKED CHRISTMAS TREE | FAUX FUR TREE SKIRT (UNDER $50)
Christmas pjs are a big thing at our house! We live in them and wear them all month long! I specifically wanted to design cute shirts for the kids to wear for Christmas and I am so excited how these Santa's Little Helper baseball tee's turned out. Our whole ILY kids Holiday Collection turned out so cute you can shop the full collection here.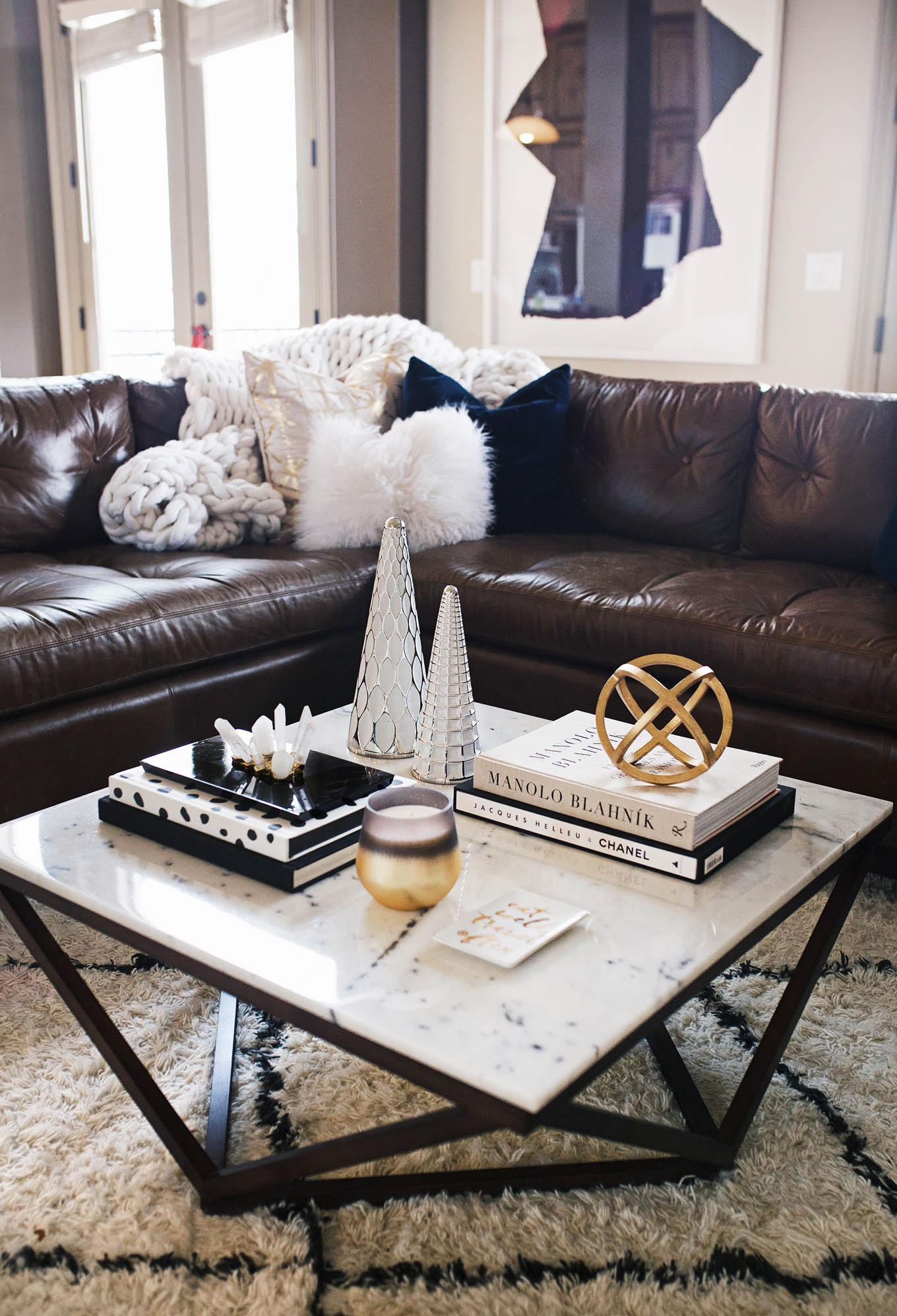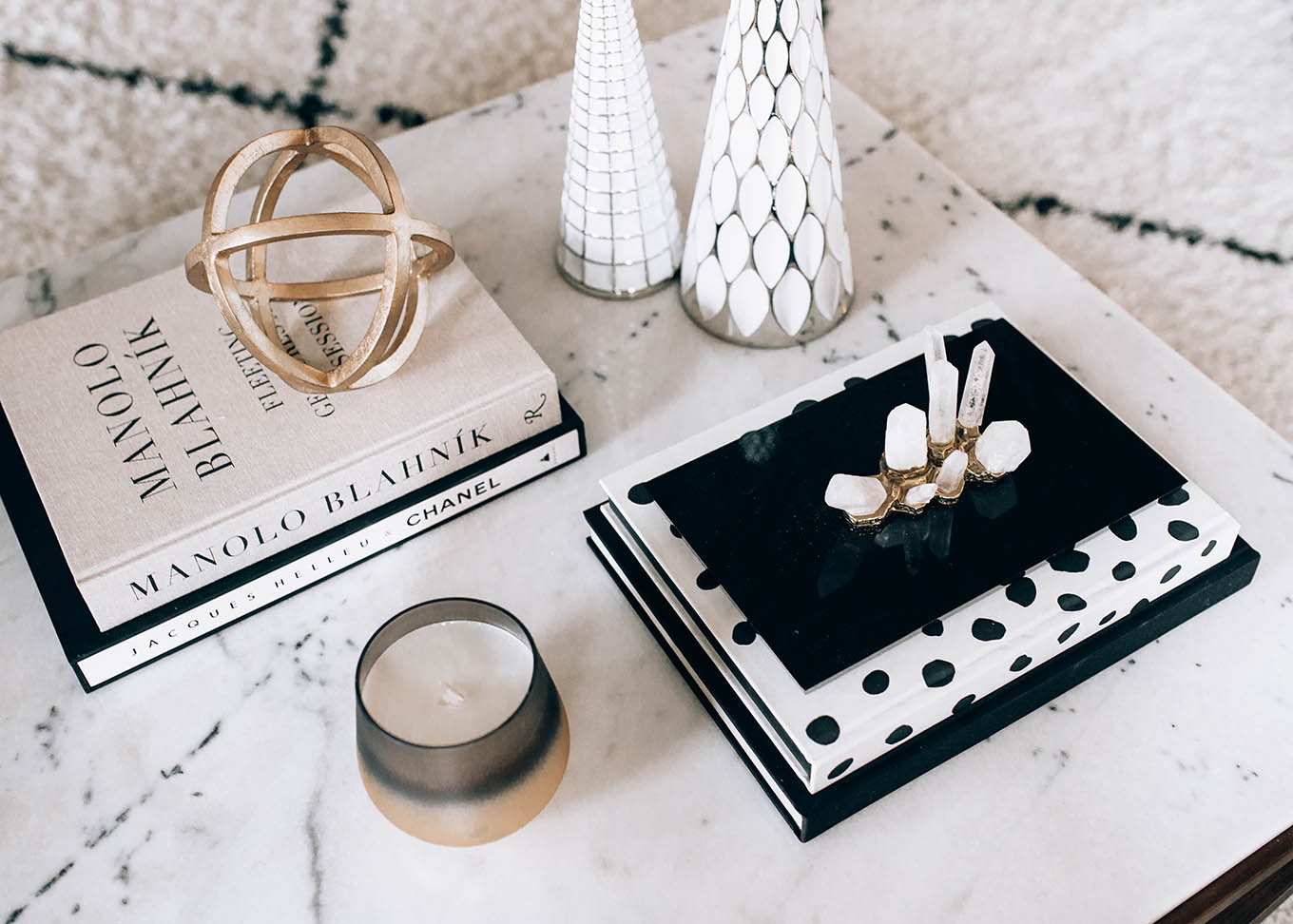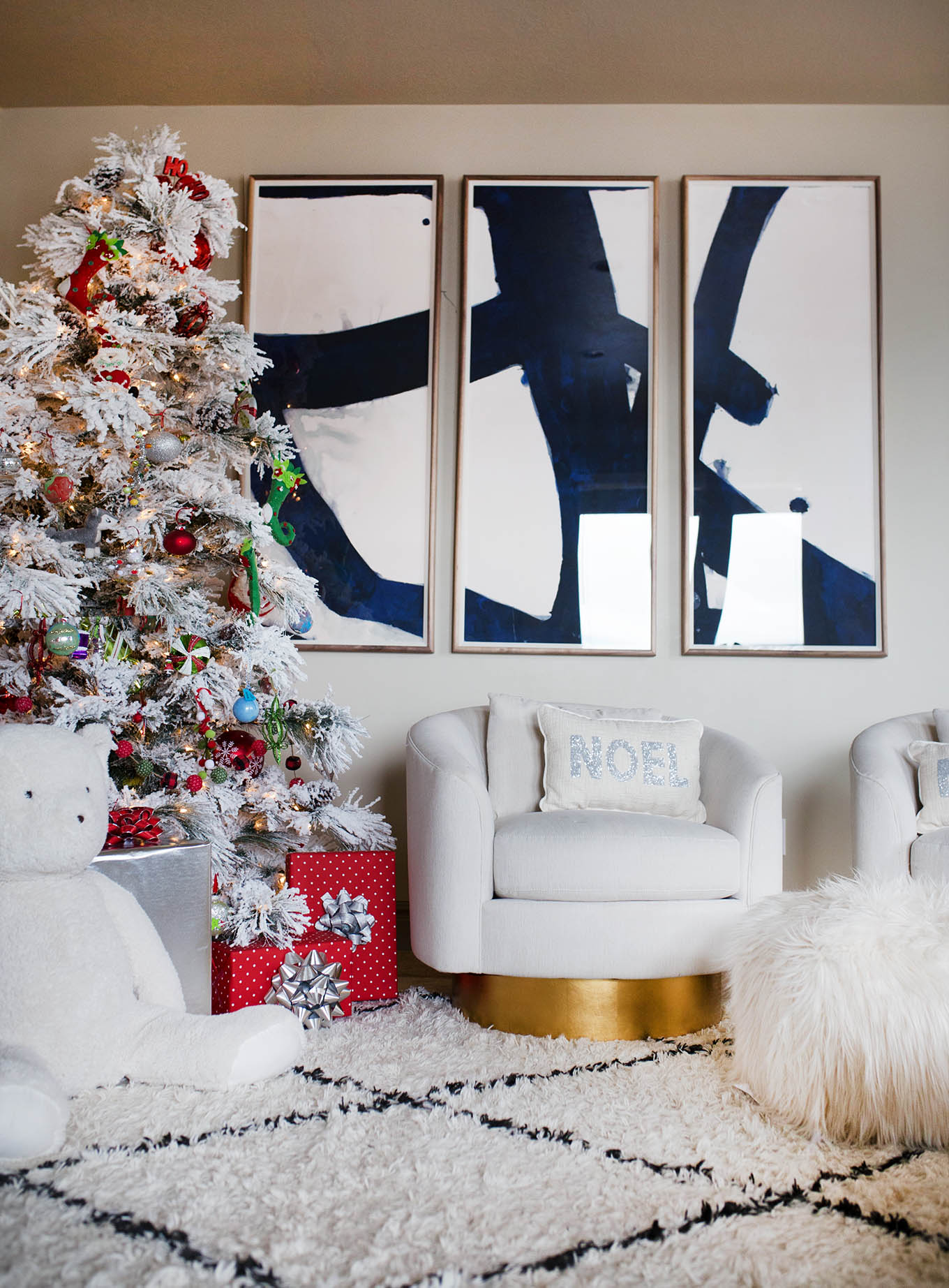 The Christmas corner in the living room. You might think you would have to trade in your homemade handprint ornaments for a picture perfect tree, but who says you can't have both!? We got two trees this year so we could go with 2 different themes.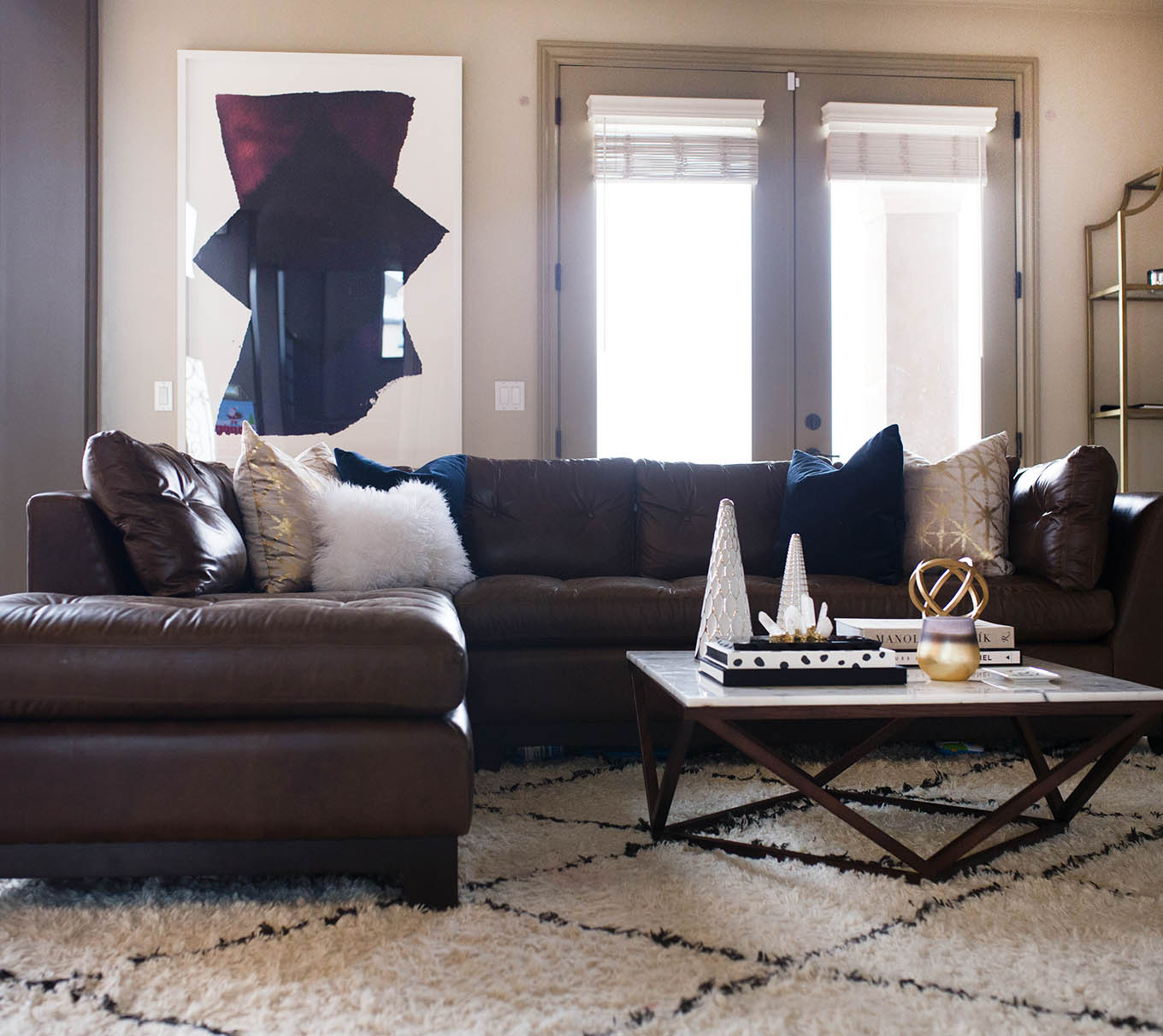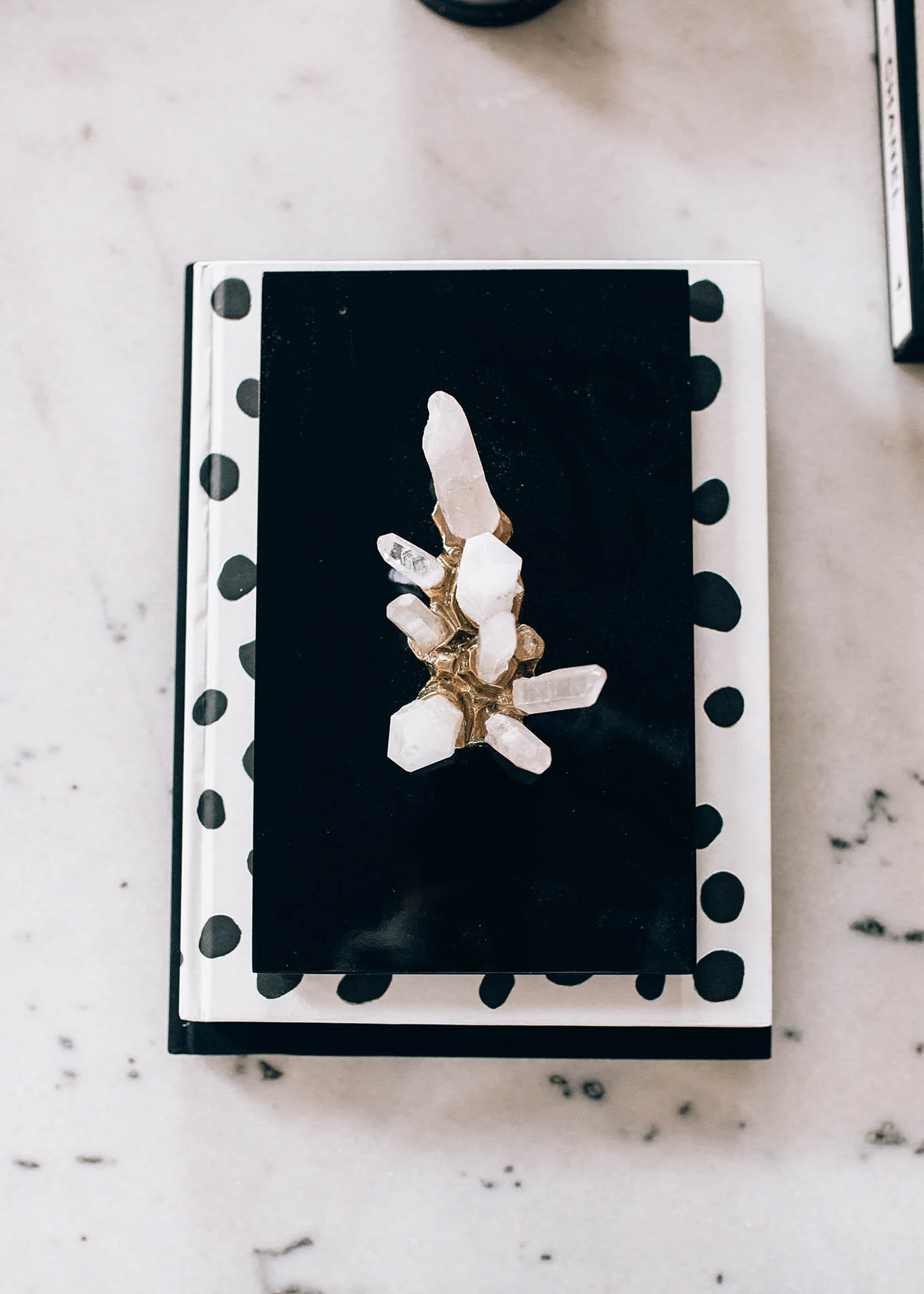 Obsessed with this polka dot book! Got all my fashion books here and just ordered this stack for my book shelf.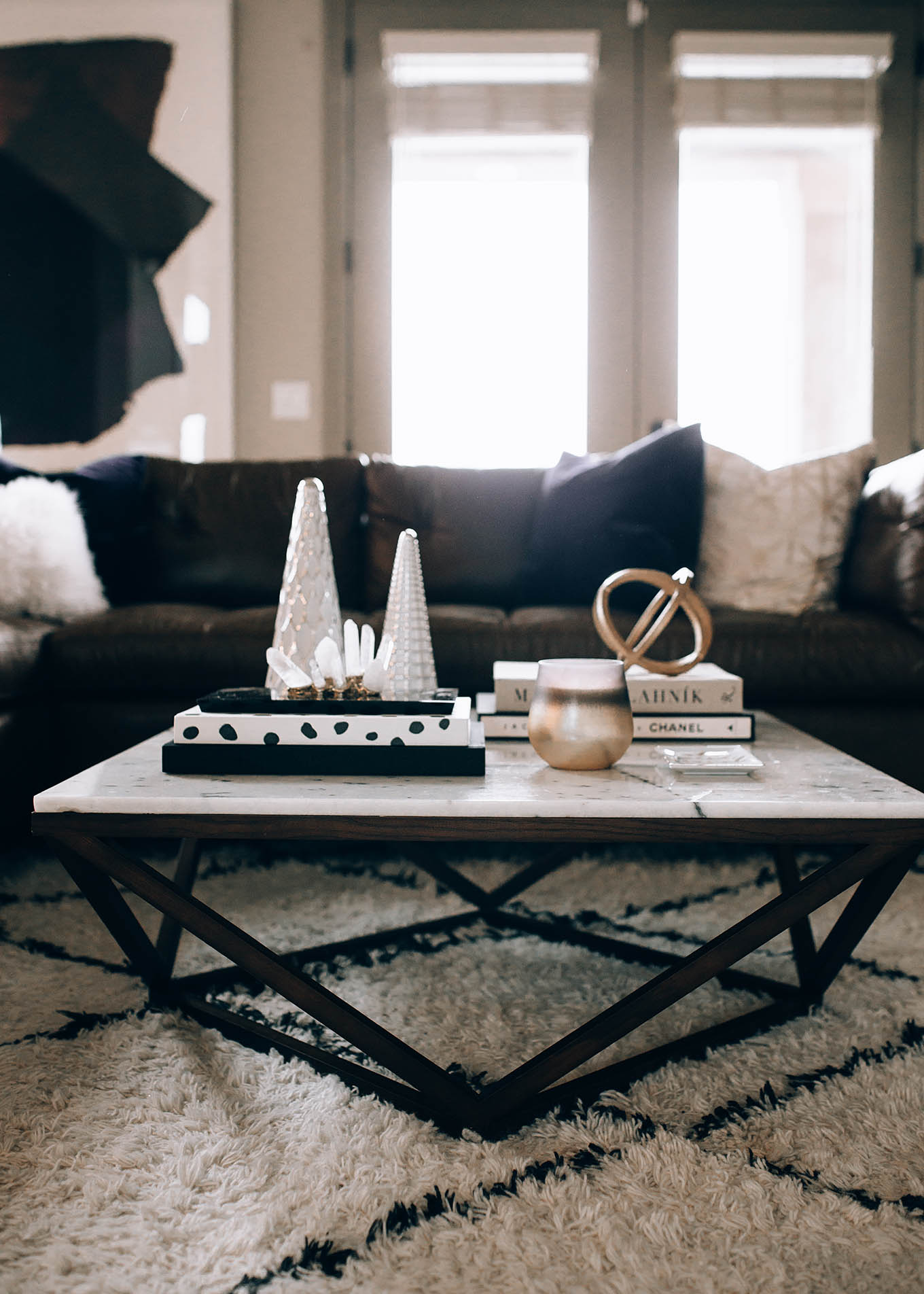 LIVING ROOM FURNITURE: LEATHER SECTIONAL SOFA | WHITE SWIVEL CHAIRS | TASSEL RUG | MARBLE TOP COFFEE TABLE
PILLOWS: GOLD GEOMETRIC PILLOWS | NAVY VELVET PILLOWS | WHITE FUR PILLOW | NOEL PILLOWS
BOOKS:  CHANEL BOOK | DESIGNER BOOKS | POLKA DOT BOOK
ACCENT DECOR: GOLD OMBRE CANDLE | EAT WELL DISH | WHITE CERAMIC CHRISTMAS TREES (OLD FROM TARGET) | GOLD SPHERE SCULPTURE | BLACK BOX WITH GEODE
ARTWORK: NAVY TRIPTYCH ART SET | VIOLET ABSTRACT PAINTING
I love the holidays! I feel like the decor makes our house feel so much more homey – I wish we could leave it up all year round! I  know lot of you guys have been asking about our tree. I got it at Tai Pan a couple years ago. It comes flocked and it's probably my favorite part of christmas. We also got another flocked tree this year – a smaller one for the living room that the kids could decorate. It's been a family tradition for the kids to make an ornament every year and also pick out an ornament that represents their favorite thing at that point. I love looking back at their ornaments every year and my hope is when they are older and married I will give them all their ornaments (If I can actually part with them

)
I also love bringing in little seasonal accents throughout the rest of the house. We have slowly been redesigning our living room – I'm officially the worlds slowest interior designer! Almost everything is from High Fashion Home, the team is so amazing there (and patient with me because I am WAY TO INDECISIVE!!) I'll get one or 2 pieces and then starting filling in the rest of the room really slowly because I have to visualize everything before I commit to something. I'll do a full reveal when it's all finished up! I'm obsessed with these white and gold chairs – the style comes in a darker fabric too but we did a custom order upholstery and I love how they turned out! I originally wanted to do a white couch but Cody laughed at me. We were scared of a white couch with kids, so they told me about this fabric that is supposed to be super stain resistent so I am trying it out on chairs so when we finish building our house if it's still stain free I can convince Cody we can do the white couch ;). I also found these cute Noel pillows at Target last year (similar here) and love the look on the white chairs. Throw pillows are always a great way to bring in holiday accents. Also obsessed with these pillows. They are even more beautiful in real life. I love them because they work year round. The gold accent works great for holiday color schemes and for everyday decor. These deep navy velvet pillows are probably my favorite. Stay tuned for the full final reveal of the living room! Hopefully it doesn't take me too much longer to decide on the last finishing touches.
XX,
Christine
SOURCE: Hello Fashion – Read entire story here.